Dog Trainer Judy Anderson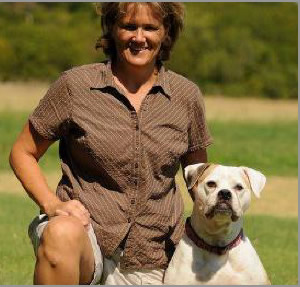 My name is Judy Anderson, and I am the owner of Boise Dog Training LLC and a life-long dog enthusiast. After 25 years in law enforcement, I retired from the Michigan State Police to pursue my passion of working with dogs. My number one goal, as a certified dog trainer and behavior specialist, is to help humans build happy, fulfilled relationships with their best friends.
As long as I can remember I have always loved dogs. As a kid growing up, my family had dogs and this didn't change when I became an adult. It broke my heart to come across homeless animals in law enforcement. I did what I could to help them in their situations.
My life changed in January of 2005. While driving in the middle of the night through Detroit in bad weather, I saw a very large and scared dog running down the shoulder of a major highway. I picked her up off the road and decided to bring her home. I called her Buddy but had no intention of keeping her.
At the time, I had no idea what I was getting myself into. Buddy was all muscle and what trainers would call dog reactive with a few additional behavior issues. I didn't think she would survive in a shelter because of her breed and problem behaviors. When I mentioned the situation to someone at work, my co-worker suggested I take her to a particular trainer who specialized in dogs with behavioral issues.
The socialization and modification training for Buddy made such a difference! It affected me as well. After that, I volunteered with the Michigan Humane Society as a volunteer dog walker. Buddy and I began to foster homeless dogs and puppies from the shelter which gave me more opportunities to work on training and behavior modification.
I retired from the Michigan State Police in the spring of 2011 and attended Triple Crown Academy (T.C.A.) for Professional Dog Trainers, located in Hutto, Texas. T.C.A. is a premiere, in-resident, 12-week dog trainer school. While under the supervision of some of the top trainers in the nation, I gained hands on experience in dealing with a variety of training issues by utilizing scientific methods and solutions. I also received hands on experience with scent detection, search and rescue, clicker training, agility, protection training, service dog work, and more. Triple Crown Academy provided me with real world experience in working with a wide range of dogs and behavioral issues.
After moving to Bend, Oregon in 2012, I obtained a newly created position as the supervisor of the training and behavior program at Brightside Animal Center, the former Redmond Humane Society in Redmond, Oregon. My position required performing behavioral and temperament evaluations, as well as, developing and implementing training and behavior programs for difficult dogs at the shelter. In addition, I performed in-home training for dog owners and adopters. I also held obedience classes and I became certified as a Canine Good Citizen Instructor. My duties also included working with the staff and volunteers on handling dogs and adoptions.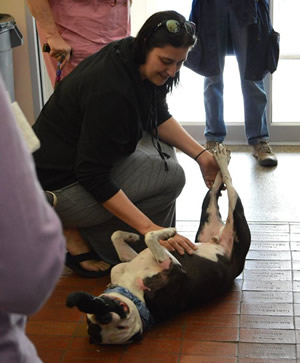 Currently, I have two dogs of my own, first, there is Riley, who is a rescue from San Antonio, Texas. When I first began working with Riley, he was very driven, but had no manners or obedience training. In addition, he couldn't swim, and was dog reactive. Through my training, I am proud to say, he is trained in narcotics detection, basic search and rescue and has a title with the National Association of Canine Scent Work. Also, he loves to swim, and I use him as my demonstration dog in obedience training, as well as, dog to dog introductions. Then there is Chance, a rescue I adopted from Brightside Animal Center. Chance's story begins sadly. In July 2013, he was discovered on the side of a country road barely alive. It was determined by the local Sheriff's Department that Chance was dragged behind a vehicle for approximately 5 miles. As he was fighting for his life, he was brought to Brightside Animal Center. There he went through intense medical treatment and survived. I eventually fostered Chance who had a lot of fun energy, but it was obvious to all, he had no manners or obedience training. Soon after I fostered him with the goal of teaching him obedience, I adopted him. I worked on his obedience and manners. During this time, it became very clear to me, he was incredibly helpful with dog to dog introductions and identifying dog temperament. He continues to be my very social and trustworthy training partner. Please see the BrightSide Animal Center for more about Chance.
Currently, I live in Boise, Idaho, and have started my private training business, i.e., Boise Dog Training LLC. I specialize with in home dog training. Also, I work as a dog trainer and volunteer dog walker for Bully Breed Rescue.
Professional Memberships
Member of the National Association of Canine Scent Work (NACSW)
International Association of Canine Professionals (IACP)
Association of Pet Dog Trainers (APDT)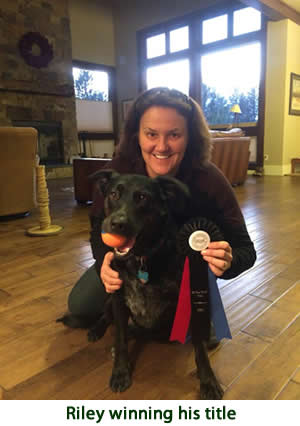 Continued Education Courses
Animal Farm Foundation, 1 day seminar, Madison, NJ —Oct 2011: Breaking the Cycle of Discrimination, Kennel Enrichment, and Turbo Charging Pit Bull Adoptions.
Karen Pryor, 3 day workshop, Portland, OR-Jan 2012: Clicker Expo (marker training).
Sue Sternberg, 3 day seminar, Salem, OR-Nov 2012: Assessing Dog to Dog Interaction.
Nicole Wilde, 1 day workshop, Redmond, OR-Jun 2013: Helping Fearful Dogs.
John Rogerson, 3 day seminar, Burlingame, CA-Aug 2014: Canine Aggression in Depth.
John Rogerson, 3 day seminar, Novato, CA-Aug 2014: Behavior, Counseling and Aggression.
Michael Ellis, 10 day training class, Santa Rosa, CA-Jan 2015: Obedience Intensive.
Heather Beck, 4 day workshop, Draper, UT-Jun 2015: Dealing with Difficult Dogs.
Dog Training Philosophy
In order to be successful at training your dog, we must look at how dogs think and learn. I also believe in personalizing your experience. Every situation can be approached with a variety of training and behavioral solutions that include effective communication and methods designed specifically for you and your dog. I work hard to find a program that fits your schedule and fulfills your goals.
Let us train your dog for you.
Request a consultation today.